Image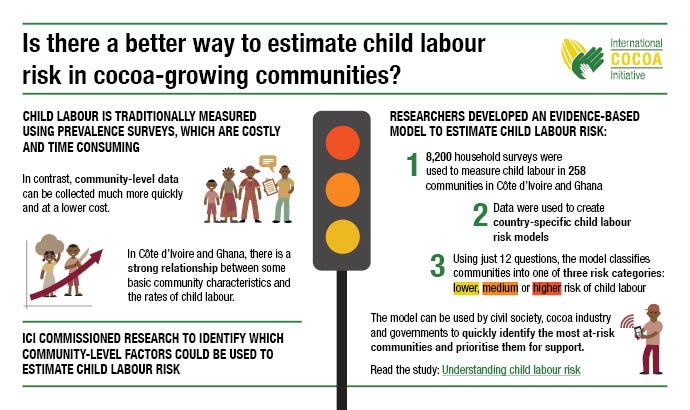 Child labour in cocoa-growing areas is caused by a complex interplay of social, economic and cultural factors. These differ greatly between households, communities and countries. As a result, measuring child labour is costly. Surveys to measure the number of children in child labour are complex to administer and require large samples.
In contrast, information on community characteristics is much easier and cheaper to collect.
Using data from 258 cocoa-growing communities in Côte d'Ivoire and Ghana, the International Cocoa Initiative (ICI) commissioned research to answer two questions:
Which community factors indicate that a community is vulnerable to child labour?
How could this community-level data be used to assess child labour risk more cost-effectively?
The results show that a limited set of community characteristics, which can be collected easily and at low cost, provide a powerful predictor of a community's child labour risk. The research team produced two models – one for Côte d'Ivoire and one for Ghana – which can be used to identify and target the most vulnerable communities for support. By answering a few simple questions, a community can be classified in one of three categories: lower, medium or higher risk of child labour. In practice, these models can help actors in cocoa-growing communities to prioritize where further assessments are needed, and identify appropriate action to take.
The study was conducted by the Understanding Children's Work (UCW) Programme, a joint initiative by the International Labour Organization (ILO), the United Nations Children's Fund (UNICEF), and the World Bank. It was funded by the Jacobs Foundation, the Chocoloney Foundation, the Lindt Cocoa Foundation, and several ICI Board Members.
---
Read the full country-level reports:
Using community level data to understand child labour risk in Côte d'Ivoire
Using community level data to understand child labour risk in Ghana
View and download data:
Côte d'Ivoire – Cocoa community assessment and child labour data, 2017