Image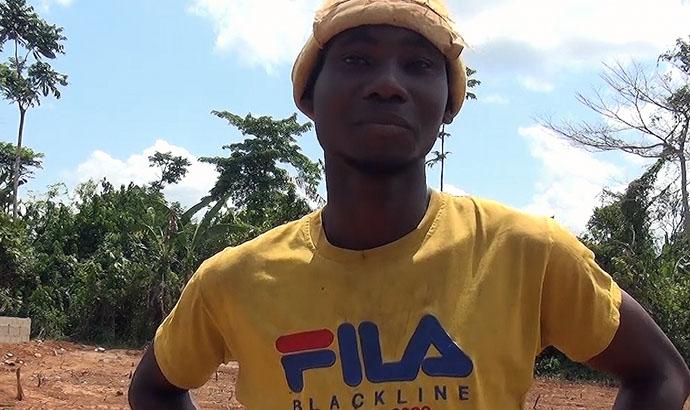 As part of the Child Labour Monitoring and Remediation System (CLMRS) implemented with Tony's Chocolonely through the ABOCFA cooperative, the International Cocoa Initiative (ICI) supported sixteen-year-old John Tetteh in Aponoapono, a cocoa-growing community in Suhum, Ghana, through an apprenticeship. The CLMRS operates in the supply chains of cocoa and chocolate companies like Tony's Chocolonely to identify, prevent and address child labour. These systems allow appropriate remediation to be targeted at children, families, and entire communities. In some cases, teenagers like John are supported to gain skills through apprenticeships to help them in the future and reduce their risk of undertaking hazardous tasks on the cocoa farm.
How John's journey began
In 2020, John decided not to continue his education after completing Junior High School. He felt he would be more successful in life if he acquired a skill but his family could not afford to enrol him in an apprenticeship.
"I had to work with my father on the cocoa farm to help him save the money needed to cover the cost of enrolling me in a training," John recalled, when ICI caught up with him a year after he started the training to learn about his progress and the challenges he faces.
"A community facilitator came to talk with my family as part of the CLMRS and he found out I was engaging in hazardous work on the farm," John continued. "ABOCFA offered to enrol me in an apprenticeship as one of the children they were remediating from child labour and hazardous work. They paid my enrolment fees and bought all the tools I needed to start learning the trade. I am now training in masonry, steel bending and tiling."
What is different about John's journey
Unlike the other apprentices in the programme, John is the only one who is learning three trades at the same time. This is because the master tradesperson he is training with knows all three skills. This was not an easy decision for John, as it means there is a lot to learn when trying to master three different trades.
"I was interested in just learning how to lay tiles but was advised to learn masonry too. I decided to learn all three skills because the other apprentices have made the place very interesting."
Learning masonry, steel bending, and tiling together will open up more employment opportunities for John once he completes his training. As he explains, he will be able to take his own contracts but also sub-contract with others on jobs, offering him greater flexibility when looking for work. Though John's initial interest was in tiling, learning all three trades, which are each sought-after skills, will also stand him in good stead in the future.
Skills and jobs for youth feature prominently in the 2030 Sustainable Development Goals (SDGs), with SDG target 4.4 calling for a substantial increase in the number of youth and adults who have relevant skills. This is because it is more likely for children between the ages of 15 and 17, especially those who have dropped out of school, to be involved in child labour and take part in hazardous work because they are seen to be less vulnerable than younger children. Programmes such as the ICI apprenticeship programme support these children to acquire skills for their future.
John's plan for the future
John seeks to be a pacesetter in his family. He wants to be an example for his siblings and other children in his community.
"At the moment, we are two siblings living with our mother here in Aponoapono. My other siblings are all living elsewhere," he explained. "One of my brothers has refused to either go to school or learn a trade. He would have been a Master trainer by the time I was done with my training. This can make him decide to re-enrol in an apprenticeship programme.
I advise my younger siblings in school to concentrate on their education and I tell those interested in an apprenticeship to quickly enrol in a training to ensure a brighter future for themselves."
John is now a thriving seventeen-year-old teenager with high aspirations for the future and, once his training is complete in 2023, he will have new skills to rely on. He is confident that the programme will help him have a better future. He has decided to complete the training in all three skills regardless of how challenging it is. "I am committed to learning these skills, so regardless of the challenges, I am going to complete my training. I have three years to complete the apprenticeship. ABOCFA enrolled me into this training because I wanted to learn it. My goal is to complete the training well skilled to prove I was really determined to learn the trade. [With] this training, my future is assured."