Djè Lou Irié Micheline is a hairdresser in Bériaboukro, a cocoa-growing community located approximately 40 kilometers from the department of Oumé, in the Gôh region of Côte d'Ivoire. Carrying her handbag with her school supplies, she made her way to this extraordinary lesson early on Tuesday morning. Micheline is a member of the Kavokiva Women's Village Savings and Loans Association, a group of women who save into a common pool and take out loans to develop income-generating activities. But like Micheline, many of them are victims of their illiteracy and innumeracy. "When I did my clients' hair and they paid me, I would make mistakes when giving them change. As a result, I was very often working at a loss. And during busy periods like the holidays, my husband had to stay up with me until late to give change to the clients". 
Today, this situation is in the past: "thanks to the evening classes, even when my husband is away, I can do the calculations and change the money. I can see my business flourishing...".
Djè Lou Irié is amongst the first to participate in the Adult Literacy and Numeracy project set up by Nestlé Cocoa Plan in collaboration with the International Cocoa Initiative (ICI). The project started at the beginning of 2023 in ten communities with the aim of providing women VSLA members with reading, writing and numeracy skills. In addition to helping these women in their daily activities, these skills will help them manage their income-generating activities and facilitate the process of obtaining loans from the formal banking system.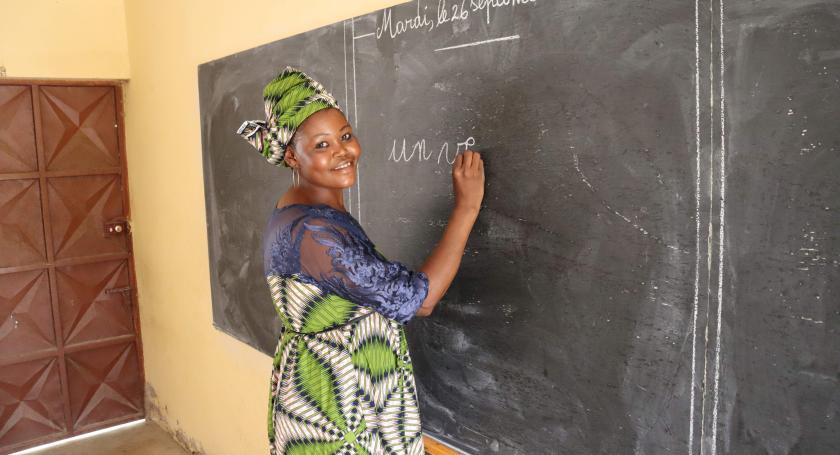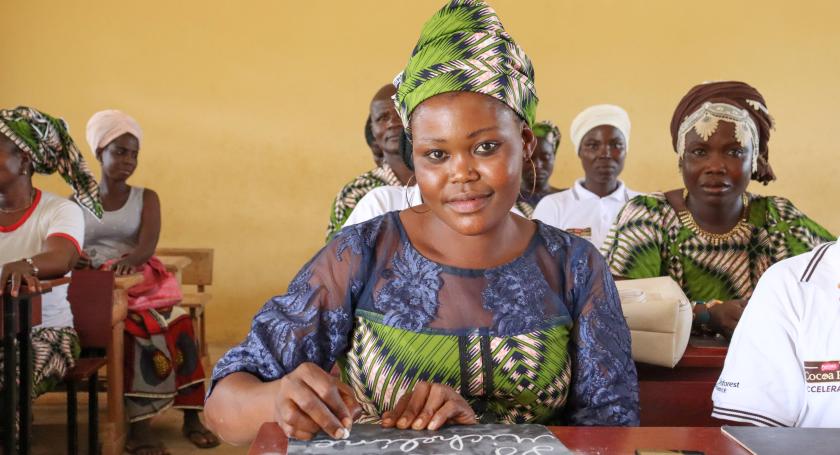 In Beriaboukró, one of the communities where the project is implemented, 45 women are participating in this first phase of the project. Halfway through the programme, the results are already encouraging. "Before, when I went shopping, it was the sellers themselves who did the calculations and I paid what they told me. And very often, I paid more than I had to. Today, thanks to the adult literacy classes, I can go shopping and sell without being cheated. When the seller makes his calculations, I do too," said Doumbia Kady, a cosmetics seller. 
"This project is a great help to these women. They can now write letters, formulate and read words, and write their names and telephone numbers. For most of the women, the adult literacy classes are already helping them carry out their income-generating activities more effectively. With the knowledge they have acquired so far, some of them can even keep up with their children's studies and help them", says Guy Serges Kokoré, ICI Technical Officer in charge of the community. 
With the support of Bériaboukro's village chief and the director of the state primary school, classrooms have been made available so that the women can learn in a suitable and safe environment. Adult literacy classes are generally held on Friday, Saturday and Sunday evenings from 8pm to 10pm. Technical staff ensure that the classes run smoothly, that the women make progress and that they attend the various sessions regularly.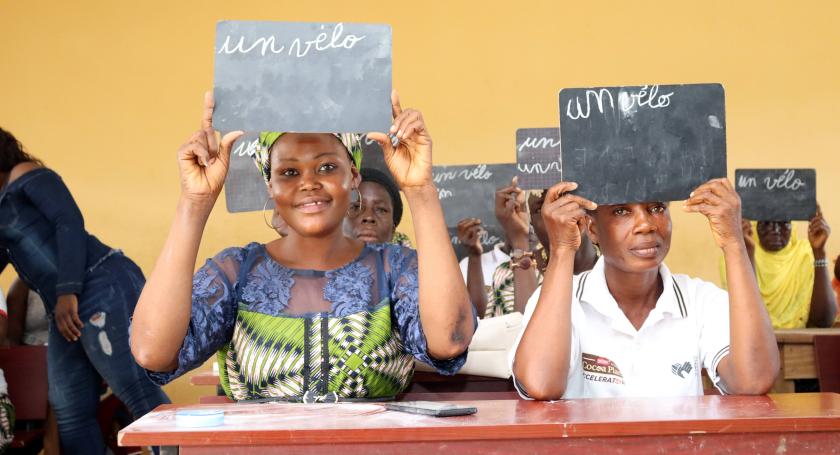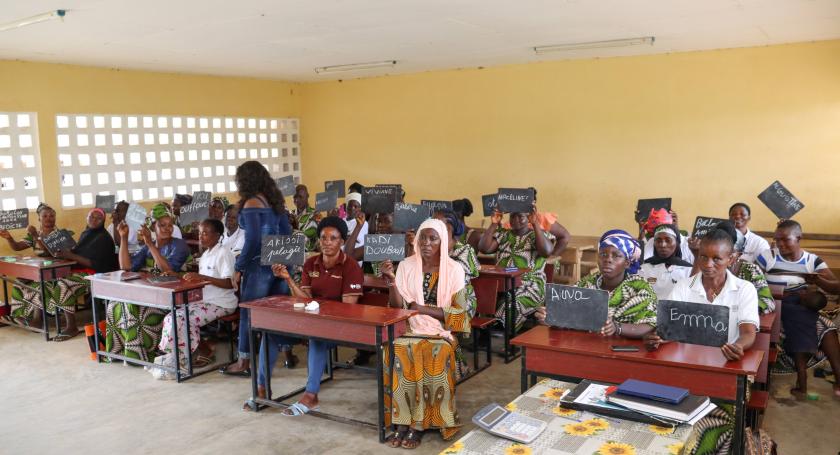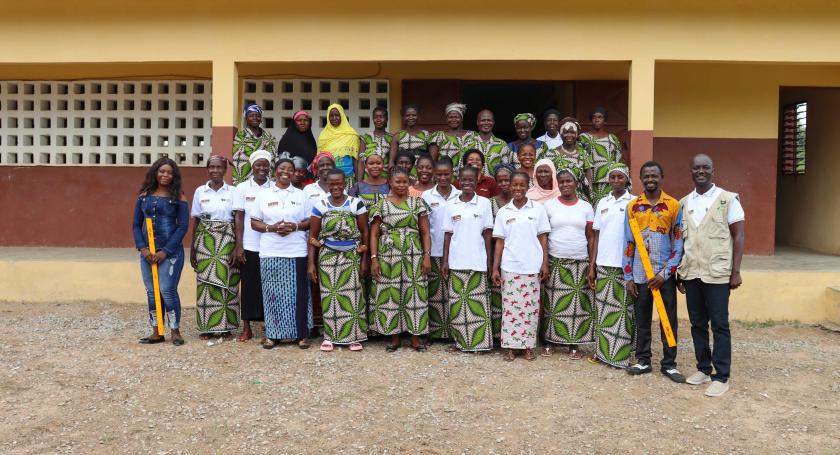 Facilitators recruited and trained
"I got my BEPC (exam that certifies the completion of lower secondary education in Côte d'Ivoire) in 2007, but as I couldn't continue my studies and had no job opportunities, I had to go back to the village to grow cocoa. One day, I was informed of an adult literacy project that was going to be implemented here in Bériaboukro. The level required was the BEPC, so I applied with the diploma I had. There were three of us competing for two places. That's how I was selected,", said Kouassi N'Guessan Philippe, a community leader in Bériaboukro. Like him, 12 people were recruited from the ten communities the project is implemented in, a great opportunity for these young people who had given up hope. The recruitment process was carried out by the local pre-school and primary education inspectorates. Once recruited, the facilitators were trained at a workshop held in the first quarter of 2023 in Yamoussoukro on teaching methods, maintenance of the living environment and first aid. Their role is to teach the women to write, read and do arithmetic. 
Women are equipped and increasingly motivated
The women received school supplies (slates, pens, notebooks), which increased their enthusiasm: "Our students have a lot of courage. Despite their work in the fields, they make an effort to be in class, they are always present and that motivates us," said N'Dri Brou Rebecca, the second facilitator of Bériaboukro. There was an improvement in those who could not read or write to begin with. For these women, it's a timely project.  
As part of work to tackle child labour, ICI has set up Village Loans and Savings Associations with a view to empower women and help them contribute to their families' well-being. Since 2020, 300 Women's groups have been set up as part of the Nestlé Cocoa Plan VSLA Upscale project. It has enabled many women to expand their businesses or make them more profitable by giving them access to loans in the formal banking system.